Duration : 08 Hours- Tour Everyday except Friday ( Tajmahal closed on firday ).
Places covered : Agra city local tour - Tajmahal - Mehtab bagh - Itmad-ud-Daula - Red fort - Sikandara Tomb

Agra local city tour
08:00 hrs : Pick up from hotel centrally located in agra or from the railway station & proceed for local city tour.
after your arrival or meeting straight forward will be taken visit Taj Mahal and mehtab bagh garden complex. The Mughal City Agra is most famous for the Taj Mahal, one of the seven wonders of the world.
The Taj Mahal, an essential sight for all visitors to India is one of the most achingly beautiful architectural achievements in the world, and is considered to be a symbol of enduring love. Shrouded in white marble the sheer elegance, purity and sentiment that are an integral part of the monument have touched the hearts of people from all corners of the world. One of the seven wonders of the world and a world heritage site was built by Mughal Emperor Shah Jahan in loving memory of his beloved wife Mumtaz Mahal who died while giving birth to their fourteenth child. Built in pure white marble Taj Mahal is located along the banks of the River Yamuna, the Taj spreads across almost 42 acres of land and it is believed that this particular spot was chosen by the emperor because of its peaceful and soothing effect. One of the seven wonders of the world, it stands as a tribute to undying love and all who visit it stand awed at the first impression created by this marvel in white marble.

11:00 hrs : Visit Agra Fort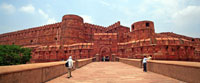 After Tajmahal you will visit Agra Fort constructed by Emperor Akabar in 1565 A.D and includes many other buildings like the Moti Masjid and Musanman Burj, where Shah Jahan is believed to have been imprisoned and died.


13:00 hrs : break for Refreshment or Lunch
in afternoon after visiting the above said monuments if time permits and if you feel hungary then the driver will take you to restaurent to have lunch. freshen up and have rest for a while.

14:30 hrs : Visit Sikandara Tomb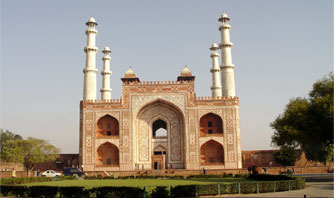 Around 10 km from Agra, lies Sikandra, the mausoleum of Emperor Akbar. This structure offers a unique combination of styles borrowing from Hindu, Christian, Islamic, Buddhist and even Jain architectural conventions.

Also visit the itmad ud daula tomb or the mini taj.

16:00 hrs : tour finished with sweet memories of Agra visit.
Finally you will proceed back to your hotel or Agra railway station along with an impression of Taj and a sheer magic that the Taj exudes making it an unforgettable and cherished image forever.

Note : This is a suggested itinerary and we can customize it according to your preference and train schedule. full day city tour means 80 k.ms range or 08 hours which ever is first.